PAPERLESS AUTOMATED SUPPLIER INVOICE PROCESSING FOR SAGE 300. INCORPORATING DATA INGESTION AND MACHINE LEARNING TECHNOLOGY TO ELIMINATE MANUAL DATA ENTRY, DELIVER PROCESS EFFICIENCIES AND IMPROVE ACCURACY.
This suite of Pacifictech modules and connected services provides a comprehensive P2P solution for handling supplier invoices while creating a paperless environment. AP Automation delivers significant cost savings and allows AP staff to work on more productive value added activities.
AP Automation (Accounts Payable Automation) is the process of automating the capture, validation, conversion and ingestion of data from supplier documents into the ERP system (Sage 300).

Essentially it is moving AP systems from paper-based or manually keyed computerised processes to a streamlined automated solution that delivers Tier 1 capability to Sage 300. The benefits of moving towards a paperless work environment include shorter invoice processing times, more accurate data capture, at a lower cost, along with greater visibility, control and efficiency of business processes.

With AP Automation, the exchange of documents can occur in any format including both electronic (email, PDF's, etc.) and hardcopy printed / scanned documents.

The Data Ingestion process involves invoices submitted, arriving via Pacifictech's Document Processing Service (DPS) console being available for review in Sage 300 within 5 minutes. From there, the AP Team can make any changes necessary before the invoice is submitted to the approval workflow.

The solution is Tightly Integrated with Sage 300 as the vendor settings from Sage 300 AP for taxes and default GL codes are utilised by DPS. Additionally Pacifictech's Payables Workflow can be configured to align with the business' supplier invoice approval process, including authorisation & tolerance levels, cost centre specific approvals, and delegated or substituted authority if an approver is absent.

Approvals can be completed via a web browser using PW-Web, or on a smart phone using the Pacifictech GO App. This approach enables approvers to interact with Sage 300 applying the same business rules and controls, without needing to log into their desktop environment.

Purchasing Workflow provides a simple and efficient requisitioning interface; setup options are available to optimise or restrict the interface depending on configurable user roles or specific user settings. Unlimited workflows can be designed to handle different requisitioning requirements. The workflow engine centrally manages each requisition based on a collection of rules and routing decisions which are customised during the setup.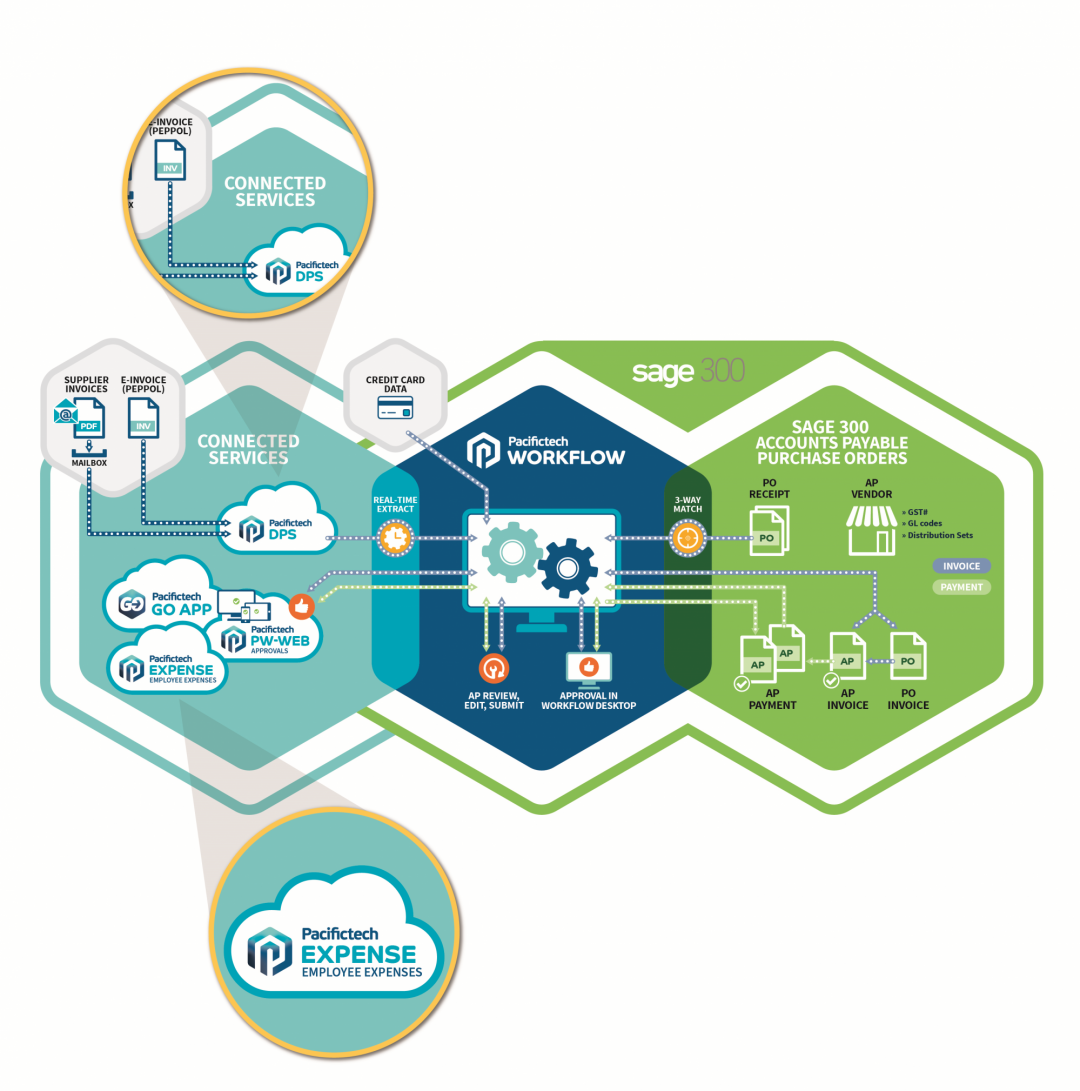 Brochures
Pacifictech Expense - Automation & Streamlining of Employee Expenses
Pacifictech have developed a solution that flows on as part of our AP Automation to streamline and consolidate expense processing. The solution allows you to capture employee spend from multiple sources, attach supporting receipts/invoices, and integrate with standard expense workflows - simplifying the process for everyone.
Expense management is normally handled in one of two ways:
1. Using a company Credit Card or Purchase Cards (P-Card), or
2. Employee submitting an expense claim/report.
Pacifictech's Payables Workflow module delivers an easy and versatile way to process company Credit Cards, P-Cards and expense claims/reports within Sage 300.
Key Benefits:
• Quickly capture receipts, categorise expenses and process claims/reports
• Review and track all of your company expense data in Pacifictech Payables Workflow
• Streamline employee expense processing & payment to reimburse employees faster
The Pacifictech workflow design for handling Credit Cards and P-Cards is made easy by only having 4 touch points as detailed blow:
1. Accounts Payable download the credit card data from the bank or service provider, add any additional information required, then import the data into Payables Workflow using the importer program. This creates the credit card expense report as a Payables Workflow transaction.
2. The Employee can review the credit card expense report via the web or mobile, attach the associated receipts/invoices, and enter/amend the description.
3. The credit card expense report is then routed to the designated workflow approver for review and approval.
4. Once approved, the credit card expense report is then available to AP/Finance to check/amend the GL coding and tax settings before posting and routing to the payments workflow.
Pacifictech E- Invoicing (PEPPOL) is included in the functionality
-
https://www.pacifictechsol.com/connected-service/pacifictech-e-invoice
Check out the video taking you through the Pacifictech AP Automation process.
OUR AP AUTOMATION SOLUTION FOR SAGE 300 IS AVAILABLE WITH A RANGE OF OFFERINGS TO SUIT ALL YOUR NEEDS.
From small business to enterprise customers, we have a range of options aligned to match your monthly invoice volumes. The AP Automation features and benefits are outlined here.