PAYABLES WORKFLOW PROVIDES ESSENTIAL FUNCTIONALITY FOR SAGE 300 SITES LOOKING TO AUTOMATE AND STREAMLINE THEIR PAYABLES PROCESS. ORGANISATIONS CAN NOW INPUT SUPPLIER INVOICES (INCLUDING SCAN) AND HAVE THE DOCUMENT SUBMITTED TO WORKFLOWS FOR REQUIRED APPROVALS.
Workflow provides a sophisticated supplier invoice approval system for Sage 300.
Invoice Register
Supplier invoices are initially created into the Invoice Register; the screens are very familiar to the standard AP/PO Invoice Entry screens.
Once created in the Invoice Register the invoice is submitted into the workflow and routed for approval as per the customisable workflow definition.
Workflow Documents is integrated with Payables Workflow, so document scans can be easily attached at the point of entry and accessible throughout the approval workflow process.
Workflows
Multiple workflows are supported to cater for different approval flows within organisations. Workflows route the Invoices to approvers, typically the cost centre manager but there are many options including the current actioner's manager and also any specific users if necessary. Another example is the workflow can resolve the necessary approver at the authorisation level based on the invoice value. Delegated authority levels are supported; the workflow will ensure that any delegate has adequate approval authority.
Integration with Accounts Payable
Approved invoices can be immediately appended to an open AP Invoice batch from the final approval in the workflow. Alternatively, a periodic batch process can be run that will create a batch from the approved invoices in the Invoice Register.
Integration with Purchase Orders
Approved invoices are immediately inserted into the PO module after the final approval in the workflow.
Substitutions
The substitution facility allows users to nominate another user to carry out their approvals while they are on leave.
Web Approvals / Mobile Approvals
A Web based Approval Console is available (an additional service) that allows simple & easy remote access by workflow approvers. Any approval actions via the browser-based Approval Console are effected instantly in the client's on-premise Sage 300 implementation via Web Services. Support for direct access from mobile devices is also available providing an excellent workflow solution for management on the move.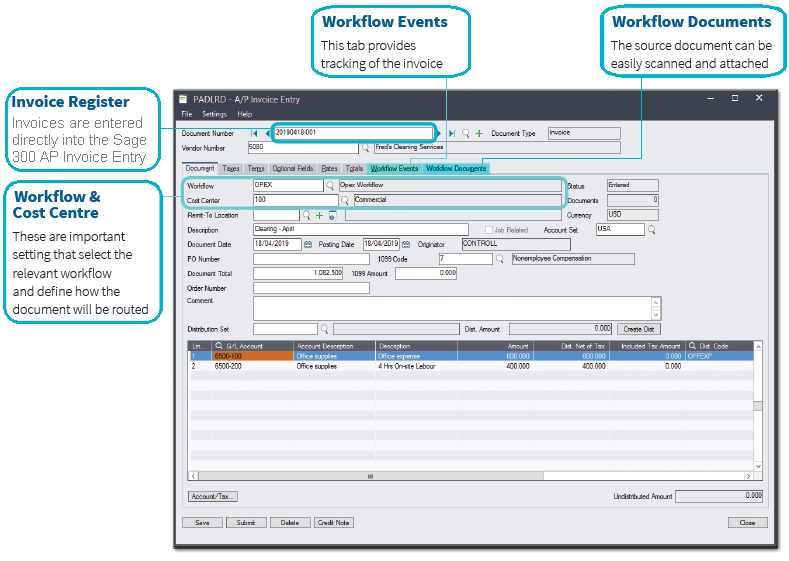 Product Resources
Main Features
Internal Issue transactions can be posted to a single or multiple cost centres

GL accounts determined by a base Expense account set by Category, with a Cost Centre override

Supports multiple units of measures

Supports the following costing methods: average, standard, most recent and user-specified

Transactions can be entered and saved, and retrieved later for changes prior to posting

Internal Issue Order form for picking of items

Internal Issue Shipment form for shipping items to the receiving department

Full support for Sage 300 Unlimited Optional Fields

Internal Issue Returns allow users to return items that were originally issued on a shipment transaction to a Cost Centre

Full support to issue Non-stock Items, a great solution to internally charge consulting, IT or any other service to Cost Centres

A security group that provides the ability to alter the issuing IC Location on the Internal Issue Order document.
AVAILABILITY & SYSTEM REQUIREMENTS
300 Editions:
Standard, Advanced and Premium

Databases:
Microsoft SQL Server
Product Resources