WORKFLOW DOCUMENTS ALLOWS ORGANIZATIONS WITH COMPLEX OR TECHNICAL APPROVAL DEMANDS TO ATTACH FILES TO THE TRANSACTION DOCUMENT. RAPID ACCESS TO ALL RELEVANT INFORMATION ENABLES STREAMLINED WORKFLOW PROCESSES AND PROCESS IMPROVEMENTS.
Purchasing Workflow and Payables Workflow have an enhanced ability to provide a single streamlined approval and auditing system with the release of Workflow Documents.
Designed to meet the needs of organizations with a more technical approval process, documents can be attached to the transaction for review prior to approval in the process.
Total Sage 300 Integration
Totally seamless with the Sage 300 standard User Interface, Workflow Documents is simple to use and provides rapid operational efficiencies.
Attachments are stored in the Sage 300 database and can be instantly accessed or optionally distributed using the Workflow email engine.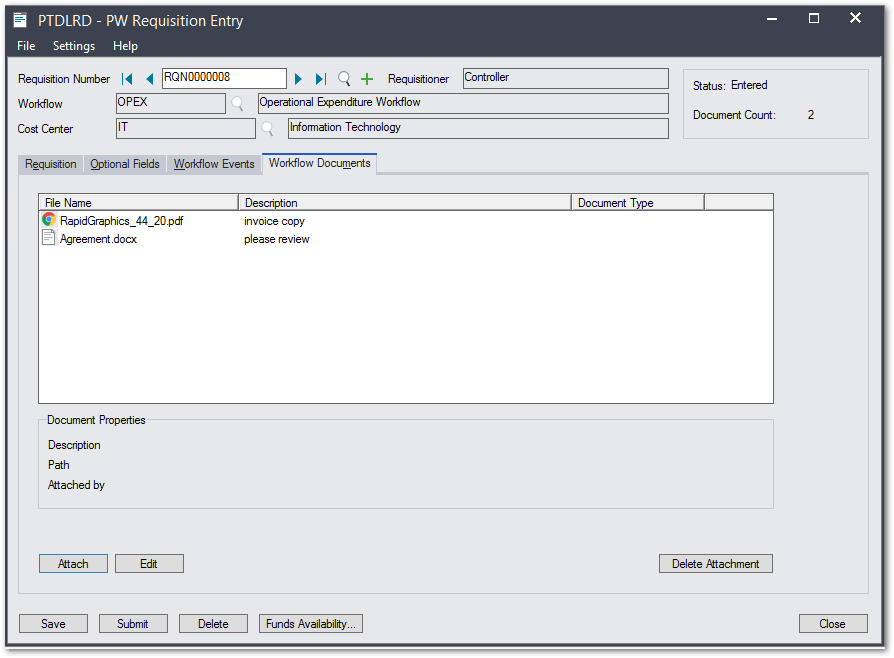 Document Embedding
An important technical aspect to Workflow Documents is that the source files are "Embedded" into the Sage 300 database rather than "Linked".
Document embedding means that the physical document is stored in the Sage 300 database along with the transaction document details. This allows for simple but comprehensive management of the attachment files.
Document Embedding provides a sound solution that overcomes many technical issues:
Drive mapping and/or security constraints

VPN requirements

Source document deletion, modification or manipulation
Users who are involved in an organization's approval process but who may operate off site can have documents attached with notification emails. A user can open a document directly from the transaction form.
Main Features
Documents easily available and accessible in the system

Saves on storage of hard copies

Documents saved within the Sage 300 database
AVAILABILITY & SYSTEM REQUIREMENTS
300 Editions:
Standard, Advanced and Premium

Databases:
Microsoft SQL Server

Languages:
English, Spanish, French, Simplified Chinese

Required Modules:
PURCHASING WORKFLOW OR PAYABLES WORKFLOW
Product Resources