Leading Accounts Payable Automation Solution
Payables Workflow in the Sage 300 desktop provides "paperless AP", and can deliver savings of up to 50% of the AP function. DPS provides another level of efficiency gain over and above Payables Workflow.
Data Extraction
Invoices submitted into the DPS Connected Service arrive in DPS Console inside Sage 300 within 5 minutes, ready for AP to review them and make any changes necessary before they are submitted into the approval workflow (for vendors that have been trained). Training of DPS is carried out on 5 invoices for each vendor – this function is done by AP staff i.e. it does not require a consultant to do this.
Tightly Integrated with Sage 300
Vendor settings from AP for taxes and default GL codes are utilised by DPS.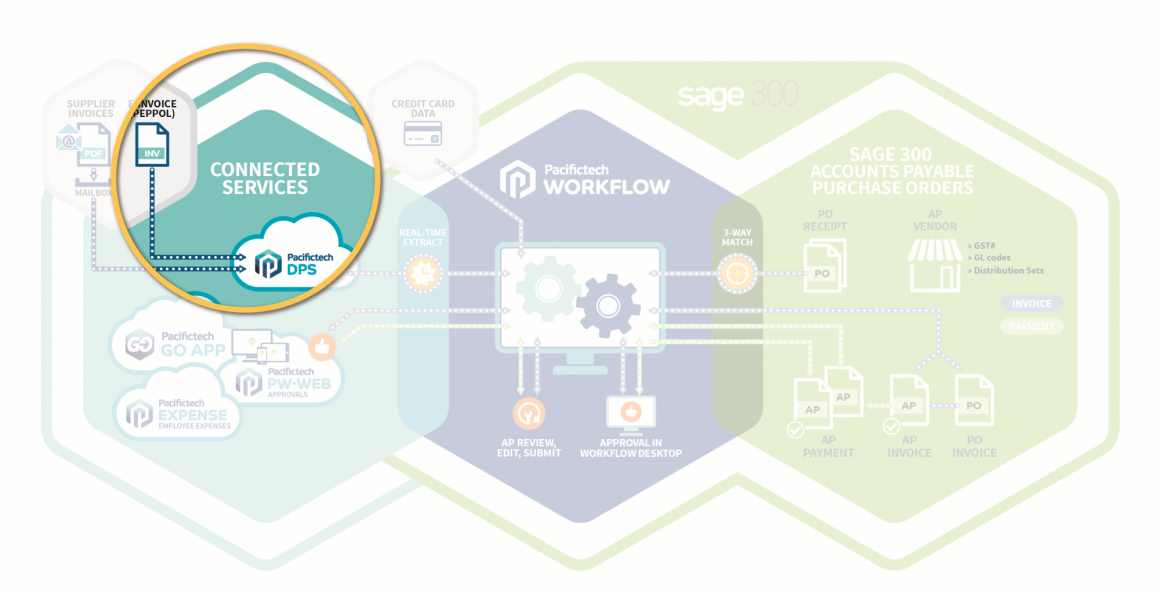 Third Generation Technology Including Machine Learning
The advanced technology included in DPS is a leap ahead from the approach used by second generation OCR systems, where the system looks in a specific location for a field. With DPS if the field is moved to a different location on the invoice, the data continues to be extracted successfully.
Web Approvals
If Pacifictech's PW-Web Connected Service is also enabled, supplier invoices can be approved form a web browser including on a smartphone. This approach enables approves to interact with Sage 300 data without needing to log in to Sage 300.
Technical Design
DPS is the second Pacifictech Connected Service that leverages the power of the Pacifictech Workflow solutions and Sage 300.
Pacifictech provides the Connected Service which communicates with the customers "on-premises" implementation of Sage 300 via web services.
Business Model
DPS is charged on a subscription basis based on volume tiers. The per transaction charge reduces for higher volumes. A service contract is mandatory between the customer and Pacifictech as the service provider.
Main Features
Automated extraction of data from supplier invoice files

Saves time so that AP staff are freed up to focus on value-ad tasks

Can handle multiple file formats

Next generation technology incorporating machine learning
SYSTEM REQUIREMENTS
The on-premise installation must be operating Sage 300, with the Payables Workflow product being activated and properly implemented.

The DPS Web Service must be accessible to the Pacifictech Web Infrastructure via the Internet; refer to the whitepaper on security implementation best practices.

Browser Support:
All modern browsers

Product Resources