Pacifictech's AP Automation for Sage Intacct enables companies to process supplier invoices with little human intervention by managing steps previously handled by AP staff. While creating a paperless environment, AP Automation delivers significant cost savings and allows AP staff to work on more productive value added activities.
Pacifictech's AP Automation for Sage lntacct starts with capturing invoice data in a digital format, usually through a form of scanning or capture via the Document Processing Service (DPS), using optical character recognition (OCR).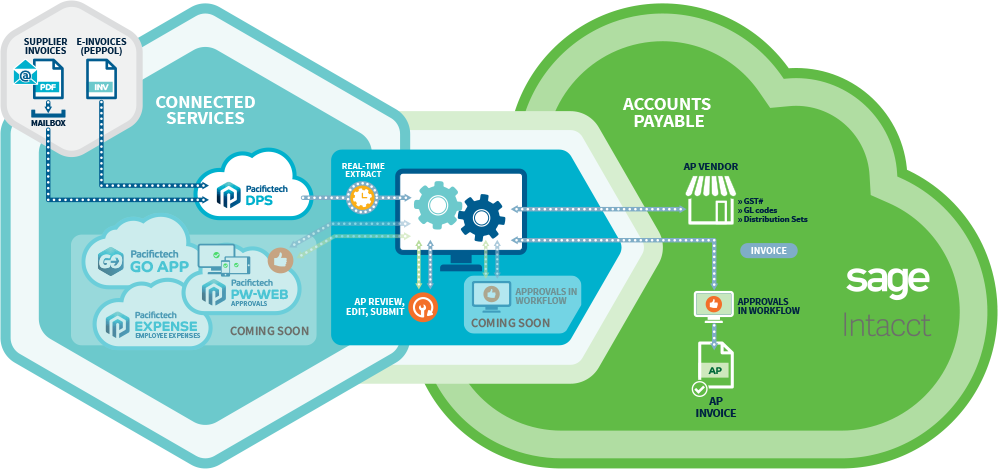 Pacifictech E-Invoice (PEPPOL) is included in the functionality
E-Invoicing is the direct exchange of invoices between suppliers' and customers' financial systems. Suppliers can send an E-Invoice directly to their customer's financial system through a digital 'mail' service. The PEPPOL international standards allows systems to 'speak' to each other, even if the two businesses are using different ERP systems.

An E-Invoice is a structured document or data file and is built with each piece of information located in a specific position with a specific meaning.

The E-Invoice contains all the elements of a normal invoice (invoice date, invoice number, tax number, invoices lines, totals), but it is created & delivered in a format that is designed to be interpreted by software rather than read by people.

Pacifictech's E-Invoicing (receiving) is tightly integrated and automagically ingests the e- invoice data file in the DPS console as part of the AP Automation functionality.

Pacifictech has engaged an Access Point Partner for the PEPPOL component - which means that there are no additional requirements (or costs).


PACIFICTECH'S AP AUTOMATION SOLUTION IS AVAILABLE IN A RANGE OF OFFERINGS TO SUIT YOUR NEEDS.
From small business to enterprise customers, we have a range of options aligned to match your monthly invoice volumes


Discovery
---
Total monthly cost

$540
100 Maximum Users (named)
Automated Data Extraction (OCR)
Pro
---
Total monthly cost

$800
150 Maximum Users (named)
Automated Data Extraction (OCR)
E-invoicing (receiving)
Enterprise
---
Total monthly cost

$1,020
200 Maximum Users (named)
Automated Data Extraction (OCR)
E-invoicing (receiving)

Terms and Conditions may apply.

CONTACT PACIFICTECH OR YOUR SAGE BUSINESS PARTNER TO GET STARTED WITH AP AUTOMATION
Main Features
Data Ingested via the DPS console within 5 minutes.

Flexible - allows for necessary amendments prior to submitting the invoice to the approval workflow.

Seamless integration includes support for transactions coming through at either top level/entity level.

The vendor settings from Sage Intacct AP for taxes and default GL codes are utilized by DPS.
System Requirements
Intacct Subscription
Reliable Internet

Connectivity Browser Support:
All modern browsers